Atera SIGNO RT 137cm black aero-profile aluminium bars
RRP:

£185.00



Code:

AR8237B
Overview
:
Atera have taken their time to develop a low noise, low drag aerofoil bar profile, but the wait has been well worth it; these bars trump all others for useability, quite apart from their superb design and looks!
The big breakthrough is that you don't need to plug the slots with rubber strips to keep them quiet. All the details are really well thought out, and they exude quality at every level.
Our Best Buy roof bars for vehicles with raised roof rails!
Click to pre-order
We will notify you by email when we have an estimated despatch date. You will not be charged until your order is ready for despatch.
Atera have taken their time to develop a low noise, low drag aerofoil bar profile, but the wait has been well worth it; these bars trump all others for useability, quite apart from their superb design and looks!
The big breakthrough is that you don't need to plug the slots with rubber strips to keep them quiet. All the details are really well thought out, and they exude quality at every level.
Our Best Buy roof bars for vehicles with raised roof rails!
Atera's SIGNO RT aluminium cross bars are sold as a complete package, ready to fit.
We've seen their development over several years and know that they've been refined and refined, with a lot of wind tunnel testing, to achieve optimum efficiency - low noise and low drag - despite not having any rubber infill in the slotted channel.
Keeping this channel open was the challenge that Atera set their design team. Other aerofoil bars (apart from Whispbar) are only quiet if rubber strips are pushed into their 'T-track slots', rubber which needs to be cut into sections and placed between, for example, bike carriers, and then more rubber added when the bike carriers are removed. You want to leave your bars on your car ready for the next time you go biking, and just slide or drop the bike carriers into them without any need to fit and remove rubber strips? Is speed and ease of use important? Of course it is, which is why the engineering behind these bars is really very clever indeed.
What's the science behind this success? See the final picture above. In summary, the WindBarrier strip creates small swirls which form an AirCushion across the surface of the T-track slot, preventing the development of wind noise whatever the driving speed. The design of the ShapeBreak trailing edge also controls the airflow, improving roof bar stability and reducing the downward force.
Other features:
The quality of the aluminium and the plastic mouldings, makes these bars a pleasure to handle
There's real attention to detail. For example, the slot under the bar, which the feet slide in, also needs to be filled to reduce noise; there's an automatic adjusting cover for the part of the slot behind the feet
The bars are tightened on with a long torque tool - long enough for your hand to remain outside the bar, even on the narrowest setting. The torque tool being supplied at the moment is the one which Atera supplies to Porsche
The end caps slide down to allow access to the T-track slots - a very crisp and smart solution
The shape of the clamp fits even to small tubular roof rails
The clamping jaws have a special rubber lining that provides excellent friction grip, yet doesn't leave any residue even in very hot weather
Weight: 4.6kg
Load carrying weight 100kg but please be guided by the maximum permitted roof loading limit of your vehicle!
Roof bar dimensions: 78mm wide by 27mm deep
The 'T-track' slots use 20mm x 20mm adapters - the same as CRUZ, Thule and Whispbar aluminium bars
Locks are included
3 year guarantee
Supplied as a pair
Made in Germany
Colleagues here who've had the opportunity to use these SIGNO RT bars to carry their bike racks are very confident that Atera have nailed it!
Most of Atera's roof bars and accessories business is with the Original Equipment market, i.e. direct to the car manufacturers, where major customers include Audi, BMW, Daewoo, Chrysler, Fiat, Honda, Hyundai, Mitsubishi, Mercedes, Opel, Porsche, Smart, Subaru, Suzuki, Vauxhall and Volkswagen. Atera's reputation therefore speaks for itself and, (probably needless to say), their products are manufactured, city crash tested, TÜV certified and quality approved to the highest international standards including DIN ISO 1135, DIN ISO 75302, and IAF ISO 14001:2004.
Tim H - Vehicle type: 4x4
Roof bars very easy to fit. As per the instructions, the clamping screw must be tightened at regular intervals. Carried 4 bikes. No noise on motorways from bars. Great service and information from the Roof box company.
Kevin R - Vehicle type: 4x4
So easy to fit and use. Quiet, no whistling at all. Safe and secure and holds the roof box well. Thank you for a first class service
Andrew C - Vehicle type: 4x4
These bars are great and you do not get any wind noise like we used to get with square bars on our previous vehicle.
Margaret P - Vehicle type: Estate
Build quality is very good, easy to use. Low wind noise, brilliant for cycles, usually carry 3 cycles. Would recommend them to all cyclists who take to cycle tracks and mountain bike parks.
James B - Vehicle type: Estate
They're great. Easy to use, excellent quality product.
Jamie R - Vehicle type: MPV
Excellent products. Both extremely easy to fit. Only issues was I hadn't factored in how high the bikes would be when they were on! Holds four bikes (2 adult and 2 children) easily.
Brett L - Vehicle type: MPV
Bought these because they were cheaper than the well known brands.Wasn`t disappointed,they are well made and easy to fit.My main concern was that they would not damage my cars roof bars which they haven`t.There is only a slight bit of wind whistle and they are left on the car all the time.
Tim B - Vehicle type: Estate
This product is absolutely brilliant. It is a quality item, well made and easy to fit. It has style, good looks and gives me complete confidence that whatever I fit to the roof is safe and secure.
Chris G - Vehicle type: Estate
Excellent piece of kit, very nice finish, easy to lift into place. Big attractions were that they're very quiet (and they are), and cheaper than Thule equivalents, plus they don't stand too high off the cars rails, so it's easier to reach and looks cleaner. Works very well with the basic Thule bike carriers we have. Only downside is that the brackets are supposed to click when you've tightened them enough and mine didn't.
Chris D - Vehicle type: 4x4

Superb Bar supports, used for transporting a couple of cycles. Very little wind noise and in most conditions and at reasonable speed not detectable at all. The ease of use would be a 10 however in order to remove the bars the wind strip under the bar needs to be removed to allow free movement of the 'gripper', still not a big issue as long as I dont lose the bits between use! Highly recommended in terms of form, function, quality and value
Peter W - Vehicle type: Estate
Outstanding! Easy to fit and easy to use, albeit difficuklt to reach on my high line Citroen Berlingo. Not cheap but well worth the price.
John M - Vehicle type: MPV
Roof box and bars great quality made travelling on holiday so much more relaxed and comfortable
Peter M - Vehicle type: Estate
Fast delivery.Good packaging. Perfect products.
Russel F - Vehicle type: Estate
Great product easy to fit and silent when in motion . I have used to fit a roof box , flat pack wardrobe , 12ft greenhouse ,and much more . They have always been study and reliable and there has been no damage to the product or the bars even when securely fastened . An excellent product all round.
Chris F - Vehicle type: 4x4
Excellent product - used with 3 Thule cycle carriers for French summer holiday with no problems 👍😁
Chris F - Vehicle type: Estate

Purchased these roof bars for a sea kayaking trip to the west coast of Scotland in June. They carried 2, 18' kayaks and gear stashed inside with no trouble at all, at motorway speeds and cross winds. I have not bothered to remove them as they are so quiet and look pretty smart. All in all, very pleased
Nicki A - Vehicle type: Estate
I bought these for my Allroad on the advice of the RoofBox team. They have been a brilliant buy and work well with our Kamai box. Buying them together saved me some money as well. They are dead easy to fit, they take minutes (once you work out where they need to sit in relation to the raised rails and remember for the next time). The aerofoil shape reduces noise a good deal which we've found especially important on long journeys (alps, south of france, Scottish highlands). They are easy to maintain and I wipe them down with wet wipes after each journey. A really good buy.
Warwick C - Vehicle type: 4x4
My bars have had only limited use so far but I am impressed by their quality and ease of fitting.
Ken N - Vehicle type: MPV
The information I received from your office was excellent which is why I purchased the product. The fitting instructions were easy to follow and I have found the roof box fits well. I am very satisfied with all information and the bats.
Richard E - Vehicle type: Estate
These roofbars clamp securely to the roof rails and the torque key means you can't overtighten. Build quality is strong and Roofbox slid in easily, there was no fear that Roofbox was going anywhere.Took car for drive after first fitting to make sure there was no movement before attaching box, could not believe how quiet they were compared to the previous roofbars we had on our previous car. Really were where whisper quiet meaning I don't have to keep removing them when driving without the Roofbox.
Chris P - Vehicle type: 4x4
Very pleased with the product. Streamlined and they hardly make any wind resistance noise. Easy to fit. I used to take my old roof bars off but I leave these on all the time. They work really well with my Atera bike racks, again so quick and easy to use. They are quality products at reasonable prices.
Stephen G - Vehicle type: 4x4
Great product and build quality. Due to the aero foil shape they are super quiet so when left on after a trip you don't get that whistling sound you get from non aero dynamic roof bars. Really easy to install and remove and good safety locks to prevent them being stolen. Well worth the money.
Jon D - Vehicle type: Estate
Great quality and very easy to fit. However a little noisy when driving. However a small price to pay when compared to the cost saving against other makes with a similar aero design.
Nerigus R - Vehicle type: Estate
Top quality product, no noise when driving, recommend to everyone who interested
Deb F - Vehicle type: Estate
Amazing customer service. Delighted with product and customer care. Would certainly use again and can recommend without reservation.
Simon C - Vehicle type: MPV
I have to say that these roof bars are excellent. Great quality, easy to fit and bombproof. They look really good too. Great value for money.
Dan W - Vehicle type: MPV

Solid product, easy to fit and remove and doesn't feel heavy despite width of the bars. Great torque tool supplied to tighten the bars that does not break your wrist and clicks when it's tightened enough.T-track will be useful if I invest in a fancier roof box but is just an option so you you can put pretty much anything on these bars that I know of. Worth investing in proper bars like these which will probably last for a decade or more. I have used it with a roof box and multiple windsurf boards on trips to France no issues no fuss (apart from the one height restricted car park i forgot I had a roof load, thankfully was just a soft bag on top.
Simon J - Vehicle type: Estate
Good quality roof bars simple to install . Not quite as robust as previous bars but much better priced and quieter.
Robert C - Vehicle type: 4x4
Excellent piece of kit, well made, sturdy, look good and so easy to fit. I don't leave the bars on and they can be refitted or removed in 5 minutes. A great purchase which works perfectly with my Hapro Traxer roof box
Cat D - Vehicle type: Estate
Easy to use, good value and quality built product.
Ian J - Vehicle type: Estate
The Atera roof bars and their bike racks are very good quality. They don't bend, they don't seem rusty after a few uses, they work well. They are easy to fit and take off and they hold the bikes really firmly. The Roofbox Co were really helpful when I had a problem refitting locks so that the one key fits all the bike locks. A great product and a great company.
Ivor J - Vehicle type: Estate
Do the job but wind noise is rather loud.
Carl B - Vehicle type: 4x4
I was unsure of buying the Atera SIGNO RT roof bars and considered Thule as an alternative. After some research I opted for the Atera product and have not been disappointed. The build quality is excellent, the bars are easy to fit and do not give any wind noise. after one years use I would definitely recommend this product
Jonathan K - Vehicle type: 4x4
Quality product no problems either in summer or winter.
Daniel M - Vehicle type: Estate
Very pleased with my Atera Signo roof bars. They are simple to fit and use and look good. Hopefully the aero shape gives some efficiency benefits too. I also purchased two Inno wheel holding bike carriers to go with the bars. Due to the depth of the bars it is a little difficult to fit the Inno carriers but once they are on they seem fine (although the difficulty is probably more down to the fitting mechanism on the Inno carriers). My Thule carriers are super easy to fit with the Atera bars.
Mark P - Vehicle type: Estate
Excellent bit of kit and cheaper than the more obvious brands with no loss of quality. Very pleased with them
About our reviews:
We test, and often use personally, almost all the products we sell, and we stand behind our comments and recommendations unless customers convince us they need changing. Our Customer Services and Workshop staff also have input into our recommendations.
But it's because we've learned a lot over many years that customer feedback is so important. Fresh, first time out opinions are the most useful ones, and in any event we certainly don't have access to the full range of vehicles that our customers have between them.
Product feedback from existing customers helps our new customers make choices, and also helps our suppliers with their product development.
We e-mail our customers a week or so after their order arrives and invite them to send in a review.
Some reviews are suitable for multiple products. Where appropriate we may, for example, use the same review for a number of different roof bar products where the only difference is the length of the roof bar.
The aim of this note is to persuade you that kayaks should always be tied to the carrying vehicle at both bow and stern.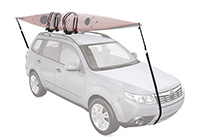 Untied kayaks have, in our experience, the greatest potential for a roof bar or kayak carrier failure. The massive forces that untied kayaks can generate have even been known to snap roof bar fixing bolts with the result that a complete assembly of roof bars and kayaks has ended up on the road. We know that this has happened with almost every brand of roof bar, and regardless of whether the kayaks are on a special carrier or just strapped to the bars.
You need to fix bow and stern lines, probably using the front and rear screw-in towing eyes to get strong and accessible fixing points on the vehicle. Kayak shops should be able to provide suitable 'paracord' for this purpose. Alternatively, we have sets of straps available that are perfect for the job and are really easy to use. Yakima make some excellent Bow/Stern tie down straps and Thule makes the QuickDraw 838 which we have listed together with every kayak carrier we sell.
Please note that kayaks should be strapped to the roof bars, or to kayak carriers, using straps that are suitable for the purpose, e.g. 25mm polypropylene straps with strong buckles. Bungee cords must never be used.
Please also note that all roof bar instructions point out the dangers of carrying unsecured long items, as of course do all kayak carrier instructions.
If you tie down your kayaks properly you almost certainly won't experience a product failure. If you don't you may or may not get away with it. If there is a disaster and the kayaks end up on the road, separated from the vehicle, then you were not using tie downs and you have subjected the roof bars to forces for which they were not designed. The costs of sorting this out are yours, not ours, and you may also have difficulties with your insurers.
We're sorry to be so firm about this, but "things coming off the tops of cars" is the stuff of nightmares, and we want to do all we can to prevent accidents of this sort from happening.
Delivery charges and arrangements:
We charge a contribution towards delivery costs, depending on what you order, where you live, and how quickly you want the goods.
These are our standard charges; there are usually surcharges for all offshore destinations and some remote postcodes - for details please see our delivery information page.
| | | |
| --- | --- | --- |
| Express Delivery | £ 9.50 | 1 to 2 working days |
| Standard Delivery | £ 6.50 | 3 to 4 working days |
Delivery of other items
| | | |
| --- | --- | --- |
| Express delivery | £ 6.95 | 1 to 2 working days |
| Standard delivery | £ 4.95 | 3 to 4 working days |
| | | |
| --- | --- | --- |
| Express Delivery | £ 19.50 | 1 to 2 working days |
| Standard Delivery | £ 14.50 | 3 to 4 working days |
| | | |
| --- | --- | --- |
| Express Delivery | £ 19.50 | 2 working days |
Delivery times
Delivery times are calculated in working days (Monday to Friday, excluding Bank holidays).
Cut-off times for Express Delivery orders
Express Delivery orders placed before before the cut-off times shown below will usually be desptached on the date of order. Express Delivery orders placed after these cut-off times will be despatched the next working day.
| | |
| --- | --- |
| Small and Standard Sized Items | Order by 4pm for same day despatch |
| Roof Boxes, Dropracks and Roof Tents | Order by 1pm for same day despatch |
Delivery FAQs
When will my order arrive?
There are no deliveries on Saturdays, Sundays or Bank Holidays, except for postable items where Royal Mail has a Saturday delivery. Express Delivery orders placed on a Friday (before 1pm) should be delivered on the Monday or Tuesday, Express Delivery orders placed on a Saturday or Sunday should be delivered on the Tuesday or Wednesday. The arrangements for Very Heavy Items are different and are shown above.
What about Next Working Day delivery?
We have offered a reliable Next Working Day service for well over 20 years but, due to the pressure on the couriers caused by the coronavirus crisis and the huge increase in online shopping, we can no longer be confident about the delivery date, which is why we now call the service 'Express delivery'. Most Express delivery orders will arrive on the next or second working day, but some will arrive on the second or third working day, or be split between these days. So-called "split deliveries" happen when the couriers do not have enough trailer space for everything that should be moved around the UK, so they will load what they can and leave the rest for the next trailer.
Is my delivery day guaranteed?
No retailer or courier company can ever "guarantee" a Next Working Day delivery. As well as split deliveries, all courier companies occasionally have the same transport problems as can happen to everyone else, including snow blocked roads, closed roads, traffic jams, mechanical breakdown, an inability to find the delivery address, or to gain access to it if, for example, it's in a block of flats. We work with some of the best couriers in the business, and overall they provide an outstanding service.
Do I need to be at home?
We are very flexible with our deliveries and will aim to deliver to an address which suits you – this does not need to be your home address. Goods can usually be left without signature - we prefer this with roof boxes. There's a "Special Delivery Instructions" box in the checkout area where we'll ask you to choose a typical instruction and then amend it to suit your particular requirements.
Payment options:
We take the following cards, and also PayPal. Please note that the entry on your card statement will be from "The Roof Box Company".
Secure payments
Our website is secured by Sectigo (formerly Comodo CA), the largest commercial Certificate Authority in the world.
To find the spare parts you need, please see the diagram below, identify the product codes, then choose them from the list below. If you need more than 1 of any item, change the quantities in the Shopping Basket.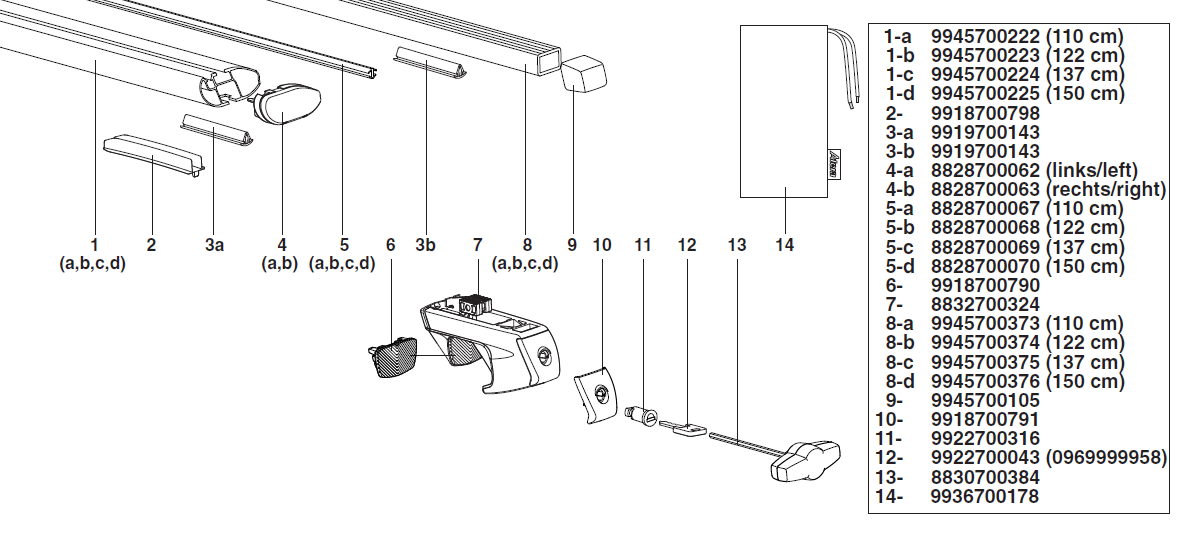 Carrying kayaks, boats or boards
Delivery charges and Payment options