Sport Wagon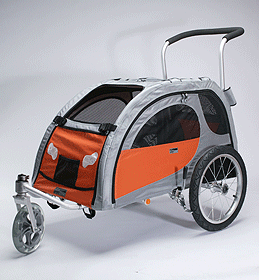 The Sport Wagon is a versatile, sleekly designed, portable dog house and pet carrier on wheels. Designed to be pulled by bikes (easily attached and detached) or transformed into a stroller, with the optional stroller kit. The Sport Wagon is ideal for puppies, injured or elderly pets who don't want to be left at home.
It features zip doors on four sides to permit easy access to your pet; a sunroof giving you full access from the top and extended space for your dog; and large side windows made of claw-proof polyester mesh. The thermo-formed base platform and strong aluminum frame support over 165 pounds, and the base of the pet cabin is water proof and contains a removable plug for easy cleaning.
The Sport Wagon is constructed of ultra-light alloy with alloy rims and hubs and is easily collapsible for quick transport and storage and folds down to about 6 inches thick. The wheels have an easy quick release mechanism for ease in disassembling. The basic kit includes the wagon, a bike towing bar, and a bike connection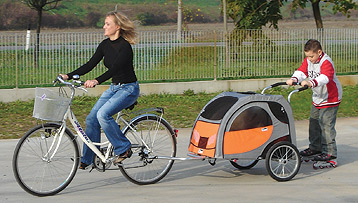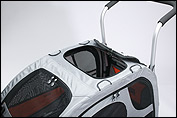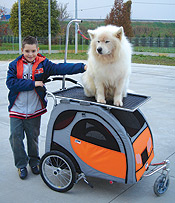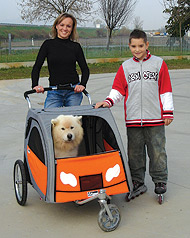 Click on the magnifying glass logo, wherever you see it, to find out which products have been specifically approved for use with your pet.