Kamei Car Styling & Accessories
KAMEI Car Comfort: Armrests
For drivers and front seat passengers. Create a more comfortable and relaxed driving environment with a KAMEI 'tailor made' centre armrest.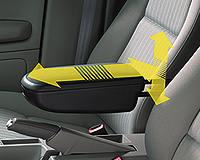 There are two designs of centre armrest available for a wide variety of vehicles, in upto three different trims. The fabric choices are black leather or black velour fabric (and light grey fabric where available). Occasionally your choice may be limited to one option, depending on vehicle. New this year, an armrest and cooler is now available for some cars too!
The KAMEI armrests have a flexible tilting function and can also be adjusted lengthways when required. They fold upwards out of the way when not in use. The top consists of high quality material, and snaps open and closed. The integral storage box can be used to keep small items or rubbish during your journey. There is a section to hide money under the lid. Easily mounted by attaching to a seat rail, without drilling.
KAMEI centre armrest and cooler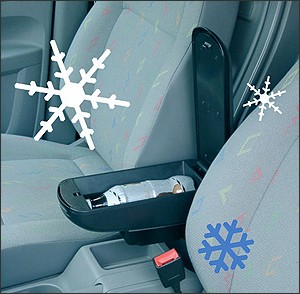 Refreshing and cool in the summer, the new KAMEI 'tailor made' centre armrest and COOLER keeps drinks or snacks cool and fresh in your car.
Simply connect the armrest to the cigarette lighter to provide a 12 V power supply. The cooling unit is located underneath the armrest. The central armrest compartment has a base-plate shaped to hold a bottle and transfers the cold by direct contact. Anything in the armrest is kept cool and fresh.
KAMEI Armrests are vehicle specific so please click on one of the manufacturers logos below to see if an armrest is availible for your car.
Find armrests for your vehicle