Kamei Car Styling & Accessories
KAMEI Car Styling: Spoilers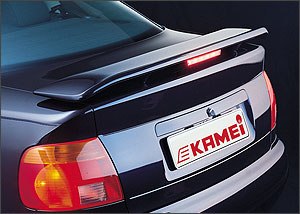 KAMEI Spoilers greatly enhance the aerodynamic features of your car.
KAMEI Rear Wing Spoilers fit an extensive range of vehicles, and are available with or without additional brake lights. The spoilers are made from a light ABS plastic, and are easily painted, then fitted - usually with a specific fitting kit provided.
As the Wing Spoiler also marks the edge of the boot it can be a useful aid to parking, whilst the brake light greatly improves safety.
The KAMEI Rear Window Spoilers help give boring saloons a sporty coupe look. Available for some BMWs, Audis and Vauxhall/Opels.
Find a front grille for your vehicle
KAMEI Spoilers are vehicle specific so please click on one of the manufacturers logos below to see if a spoiler is availible for your car.