BUZZ RACK Buzzwing 2 - Replaced by Eazzy 2
Discontinued
Extremely well made robust rack
Adjustable wheelholders accommodate even small children's bikes
Simple to tilt to allow access to the tailgate
Compact for easy storage
Alternatively, View All "Bike Carriers"

Discontinued
Extremely well made robust rack
Adjustable wheelholders accommodate even small children's bikes
Simple to tilt to allow access to the tailgate
Compact for easy storage
Alternatively, View All "Bike Carriers"

What's the big deal about the Buzz Wing? Fundamentally it's down to design, safety, quality, and ease of use - passes the highest safety standards. Consider the following:
The patented conical fitting fits to all tow balls.
The Buzz Wing is particularly well balanced - you can let go once you've placed it on the tow ball, which makes fitting the rack much easier.
Fitting is a matter of spinning a hand-turning wheel, a really quick, easy and ergonomically satisfactory thing to do. Turn the key in the tightening wheel and the carrier is then locked to the tow ball. Additional tensioning of a Nyloc nut is sometimes required (spanner supplied), depending on the tow ball, to make sure the carrier is firm.
It tilts to allow access to the boot, even with the bikes fitted. It is genuinely easy to tilt and well balanced during the tilting phase.
It sits high on the tow ball, well clear of speed bumps and other hazards such as steep ferry ramps.
The wheel holders will accommodate all wheelbases, even small children's bikes.
It has one of the biggest distance between the bikes on the market - 31cm.
Ratchet straps allow a quick and secure attachment of the wheels, long straps can accommodate tyres up to 3" wide (a longer strap is also available - listed below).
Padded bike frame cradles rotate 360 degrees to fit most bike frame tubes, ratchet straps hold your bike securely.
All parts are replaceable if e.g. someone forgets that a tow bar carrier is fitted and reverses into a wall - which happens!
Dimensions: 103 x 72 cm deep (measured from the centre of the tow ball to the outside edge of the number plate holder).
The arms fold flat for storage, or to fit in the boot.
Weight: 11.3kg.
Comes equipped with a locking cable to secure your bikes.
Locks to the tow ball.
Supplied with UK standard 3 function lights and a 7 pin plug; electrical adapters are available for those with 13 pin systems - see below.
The build quality - tube bending, welding, rust proofing, painting, component quality, is exemplary. All tools you might need are provided.
We also think it looks great!
This rack tilts far enough to open the tailgate on vehicles with all but the most vertical tailgates. Owners of larger vehicles with vertical tailgates (such as vans and bigger MPVs) report that the rack doesn't tilt far enough back to open the tailgate. If you have a vehicle with a vertical tailgate you may not be able to open it with this rack. We would recommend taking a look at the Atera Strada DL.
Unfortunately this carrier is not suitable for Volkswagen T5 models - the bottom of the tailgate clashes with the tow ball fitting mechanism. The Atera Strada DL3 is a great option for the T5 and even allows a top-hinged tailgate on the Transporter to open.

Exchange scheme: Tow bar carriers are part of our 90 day exchange scheme - click on the link below for details - so you can order without financial risk. All current tow bar carriers from all the brands we stock are available for exchange, including Atera and Thule, even if they are no longer part of our standard stock range.

BUZZ RACK is manufactured by King Rack of Taiwan, a specialist bike sector engineering company since 1996. Their factory is state of the art, with much of their production being tube bending, specialist welding and finishing for well known bicycle and car rack brands.
Max number of bikes: 2
Fits bolt on tow ball: yes
Fits swan neck / detachable tow ball: yes
Dimensions: 103 x 72cm (measured from the centre of the tow ball mount to the outside edge of the number plate holder)
Weight: 11.3kg
Max load capacity: 40kg
Max weight per bike: 20kg
Distance between bikes: 31cm
Fits wheelbases: 66-119cm
Max tyre width: 3" (a longer straps is available - listed below)
Tilting: yes
Integral lighting board: yes
Lighting board plug type: 7 pin (13 pin adapter available if required; shown below)
Bike carrier to tow ball lock: yes
Bike carrier to bike lock: yes (includes a cable lock)
Possible to tow when in use: no
Fits with a spare wheel: no
Guarantee: 3 years
Useful information:
The maximum permitted load you can carry is also determined by your nose weight; you will need to check you don't exceed this before using any tow ball mounted bike carrier.
Requires 65mm clearance from centre of tow ball to rear of vehicle.
We offer our existing customers a full "Next Day if possible" spares service, and will cannibalise new stock as required to find you the parts you need.
To find the spare parts you need, please see the diagram below, identify the product codes, then choose them from the list below. If you need more than 1 of any item, change the quantities in the Shopping Basket.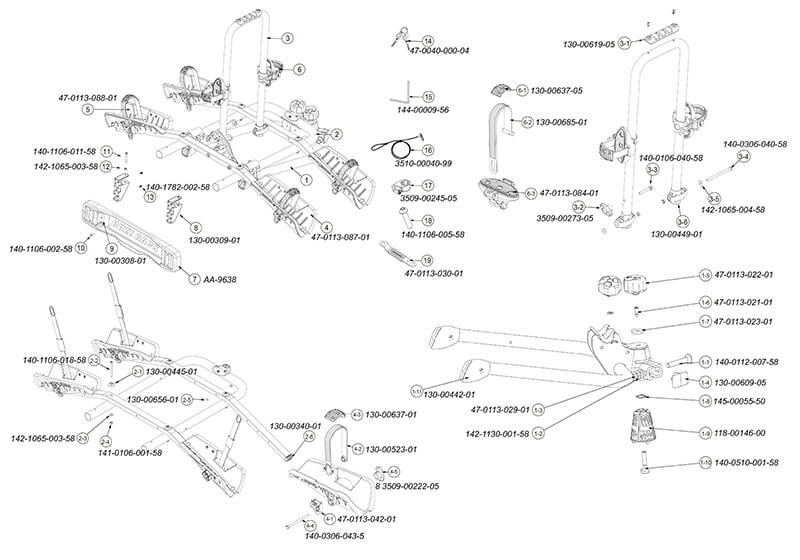 Delivery charges and arrangements:
We charge a contribution towards delivery costs, depending on what you order, where you live, and how quickly you want the goods.
For most UK addresses, the charge for our two to three day service is £5.50 (£9.50 for orders including a roof box) and our charge for Next Working Day deliveries is £8.50 (£12.50 for orders involving a roof box). AutoSock, shoe chains, RUD i-Sock, and small spare parts, are charged £3.95 (Royal Mail Tracked), £4.95 (Royal Mail Express Tracked) or £5.95 (express courier, usually Next Working Day).
There are different charges for any delivery including a sea crossing, and deliveries to Skye - we will contact you with a quote on receipt of order.
Orders for Next Working Day delivery need to be received by 4.00pm.
There are no deliveries on Saturdays, Sundays or Bank Holidays, except for postable items where Royal Mail has a Saturday delivery. Next Working Day orders placed on a Friday will be delivered on the Monday, Next Working Day orders placed on a Saturday will be delivered on the Tuesday.
We are very flexible with our deliveries and will aim to deliver on a day and at an address which suits you. Goods can usually be left without signature - we prefer this with roof boxes. There's a "Special Delivery Instructions" box in the checkout area where we'll ask you to choose a typical instruction and then amend it to suit your particular requirements.
No retailer or courier company can ever "guarantee" a Next Working Day delivery. All courier companies occasionally have the same transport problems as can happen to everyone else, including snow blocked roads, closed roads, traffic jams, mechanical breakdown, an inability to find the delivery address, or to gain access to it if, for example, it's in a block of flats. We work with some of the best couriers in the business, and overall they provide an outstanding service.
Payment options:
We take the following cards, and also PayPal. Please note that the entry on your card statement will be from "The Roof Box Company".

If you would prefer not to pay online, or to pay by cheque, please phone us to place your order.
Secure payments
Our website is secured by
Comodo SSL Certificate Authority.