Thule 25cm high load stops (4) no. 502
Overview
:
Four sturdy and adjustable load stops to help hold awkward loads in place (for square (32 X 22mm) roof bars only).
Click here to order
Four sturdy and adjustable load stops to help hold awkward loads in place (for square (32 X 22mm) roof bars only).
Four sturdy and adjustable load stops to help hold awkward loads in place. For square (32 X 22mm) roof bars only.
The aim of this note is to persuade you that kayaks should always be tied to the carrying vehicle at both bow and stern.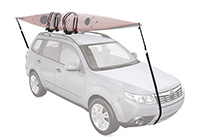 Untied kayaks have, in our experience, the greatest potential for a roof bar or kayak carrier failure. The massive forces that untied kayaks can generate have even been known to snap roof bar fixing bolts with the result that a complete assembly of roof bars and kayaks has ended up on the road. We know that this has happened with almost every brand of roof bar, and regardless of whether the kayaks are on a special carrier or just strapped to the bars.
You need to fix bow and stern lines, probably using the front and rear screw-in towing eyes to get strong and accessible fixing points on the vehicle. Kayak shops should be able to provide suitable 'paracord' for this purpose. Alternatively, we have sets of straps available that are perfect for the job and are really easy to use. Yakima make some excellent Bow/Stern tie down straps and Thule makes the QuickDraw 838 which we have listed together with every kayak carrier we sell.
Please note that kayaks should be strapped to the roof bars, or to kayak carriers, using straps that are suitable for the purpose, e.g. 25mm polypropylene straps with strong buckles. Bungee cords must never be used.
Please also note that all roof bar instructions point out the dangers of carrying unsecured long items, as of course do all kayak carrier instructions.
If you tie down your kayaks properly you almost certainly won't experience a product failure. If you don't you may or may not get away with it. If there is a disaster and the kayaks end up on the road, separated from the vehicle, then you were not using tie downs and you have subjected the roof bars to forces for which they were not designed. The costs of sorting this out are yours, not ours, and you may also have difficulties with your insurers.
We're sorry to be so firm about this, but "things coming off the tops of cars" is the stuff of nightmares, and we want to do all we can to prevent accidents of this sort from happening.
Delivery charges and arrangements:
We charge a contribution towards delivery costs, depending on what you order, where you live, and how quickly you want the goods.
For most UK addresses, the charge for our Standard three to five day service is £6.50 (£14.50 for orders including a roof box) and our charge for Express Delivery (one or three days) is £9.50 (£19.50 for orders involving a roof box). AutoSock, shoe chains, RUD i-Sock, and small spare parts, are charged £3.95 (Royal Mail Tracked), £4.95 (Royal Mail Express Tracked) or £5.95 (courier, usually Express Delivery).
There are different charges for any delivery including a sea crossing, and deliveries to Skye - we will contact you with a quote on receipt of order.
Orders for Express Delivery need to be received by 4pm.
When will my order arrive?
There are no deliveries on Saturdays, Sundays or Bank Holidays, except for postable items where Royal Mail has a Saturday delivery. Express Delivery orders placed on a Friday should be delivered on the Monday or Tuesday, Express Delivery orders placed on a Saturday should be delivered on the Tuesday or Wednesday.
What about Next Working Day delivery? 
We have offered a reliable Next Working Day service for well over 20 years but, due to the pressure on the couriers caused by the coronavirus crisis and the huge increase in online shopping, we can no longer be confident about the delivery date, which is why we now call the service 'Express Delivery'.  Many Express Delivery orders will arrive on the next working day, but some will arrive on the second working day, or be split between these two days. So-called "split deliveries" happen when the couriers do not have enough trailer space for everything that should be moved around the UK, so they will load what they can, and leave the rest for the next trailer.
Is my delivery day guaranteed?
No retailer or courier company can ever "guarantee" a Next Working Day delivery. As well as split deliveries, all courier companies occasionally have the same transport problems as can happen to everyone else, including snow blocked roads, closed roads, traffic jams, mechanical breakdown, an inability to find the delivery address, or to gain access to it if, for example, it's in a block of flats. We work with some of the best couriers in the business, and overall they provide an outstanding service.
Do I need to be at home?
We are very flexible with our deliveries and will aim to deliver to an address which suits you – this does not need to be your home address. Goods can usually be left without signature - we prefer this with roof boxes. There's a "Special Delivery Instructions" box in the checkout area where we'll ask you to choose a typical instruction and then amend it to suit your particular requirements.
Payment options:
We take the following cards, and also PayPal. Please note that the entry on your card statement will be from "The Roof Box Company".
Secure payments
Our website is secured by Sectigo (formerly Comodo CA), the largest commercial Certificate Authority in the world.