Atera GIRO AF+ AR2227
RRP:

£100.00



Code:

AR2227
The aluminium Atera GIRO AF+ features intelligently designed wheel supports to hold the bike in place during fitting, and to protect the wheels when travelling, as well as automatic shoulder-level single-handed tensioning and locking, leaving one hand to hold the bike steady. Clever stuff. It fits oval down tubes from 80mm to 100mm, and round tubes from 22mm to 80mm diameter.
Do you need roof bars as well? If so, please check out our superb package deals.
Click here to order
The aluminium Atera GIRO AF+ features intelligently designed wheel supports to hold the bike in place during fitting, and to protect the wheels when travelling, as well as automatic shoulder-level single-handed tensioning and locking, leaving one hand to hold the bike steady. Clever stuff. It fits oval down tubes from 80mm to 100mm, and round tubes from 22mm to 80mm diameter.
Do you need roof bars as well? If so, please check out our superb package deals.
This smart aluminium carrier includes some really useful innovations, especially in the ease of use department. Ease (which means speed) of use is the big issue when you've already heaved your bike onto the roof. So what's so special?
For starters, the frame holder will stay in whatever position you place it in, so you can position it before lifting the bike onto the roof.
The bike comes to rest between the wheel clamps which, unusually, can and should be locked in position, adjusted for your bike, so the bike won't roll up or down the wheel tray. Now all you need to do is hold the bike vertical with one hand, even if the car is parked on a slope. Clever stuff...
Now give the control grip a quick twist and the clamping jaws spring shut, i.e. adjust automatically to your bike profile.
Give the control grip a further twist to tighten the mechanism, and then lock it and remove the key.
Push the wheel straps into their quick release catches and pull tight.
All these adjustments are made at shoulder level (on the average car). When you come to take the bike off you'll loosen the wheel straps, unlock the control grip, twist it and pull it down until it clicks - all ready for when you put the bike back again. Believe us, there's no faster or neater system on the market.
Further specifications:
Holds oval down tubes up to 100mm by 80mm, and round tubes from 22mm to 80mm diameter
Weighs only 3kg
240mm wide, with 125mm between the roof bar fixings
Quick release fixings to roof bars, including an integral lock
The bike is locked to the carrier, and the carrier is locked independently to the roof bars (these locks are supplied)
Identically keyed lock barrels are available, which makes sense if you're buying 2 or more carriers; you need 2 per carrier
Thick rubber coating to protect the bike frame
The quick release ratchet straps accommodate all common wheel sizes, including 'semi-fats' and 'plus' size tyres (up to 3") - a longer strap is available that will take smaller fat bike wheels (up to 4")
Takes bikes with wheels as large as 29"
Easily changed from right hand to left hand mounting
Frame holder folds flat when the bike is removed
Holds bikes up to a maximum weight of 17kg
Fits 32mm x 22mm standard steel bars
Comes complete with 20mm x 24mm aerobar adapters for e.g. Atera, Whispbar, CRUZ or Thule aluminium T-track bars. Also fits many other manufacturers' slotted T-track bars including Audi, BMW, Mercedes and Vauxhall.
A complete range of spares is available.
Has passed the European "City Crash test"
Atera has a proud reputation to uphold as Germany's premier car rack systems manufacturer, making own branded gear for most of the German car companies as well as their own branded systems. Their testing regime is, as you can imagine, very extensive, and their quality is exceptional.
The GIRO AF+ has featured in numerous product tests over the years. Most recently, it has taken the Best Buy award in the 2018 Auto Express roof mounting bike carriers test - CLICK HERE to view details & results of the test on autoexpress.co.uk. (link will open in a new tab).
Exchange Scheme: Roof mounting bike carriers are part of our unique 90 day Exchange Scheme - see the tab for details. The bottom line is that if you aren't satisfied that the GIRO AF+ fits the bill you can exchange it for an alternative roof mount, or a tow bar bike rack.

This carrier is part of our "Pick and Mix programme", where there are discounts for multiple purchases of any carrier in the programme, and you can mix cheap and expensive. Change the quantities in your shopping basket (and press "Recalculate") to see what happens! This carrier is priced as low as £74.95.
Include 1 = £84.95 each
Include 2 = £79.95 each
Include 3 = £76.95 each
Include 4 or more = £74.95 each

Do you need roof bars as well? If so, check out our fixed price Package Deals - whichever locking roof bars you need for your car, (locks included where available), together with 2, 3 or 4 GIRO AFs, including identically numbered locks!

Made in Germany.
An introduction to the Atera GIRO AF
Atera GIRO AF+ (aluminium) Reviews
Dave S - Vehicle type: MPV
Having had various cheaper bike carriers over the years that have rusted through and felt rather flimsy, I went for the Atera Giro AF as my new VW Touran roof was higher that previous cars and I didn't want to stretch up higher than needed. The carriers are light but robust and the clamp easy to use and effective. Clips for the wheels are retained on the carrier so don't get mislaid like cheaper models and with the integral chocks to teh wheels I really feel that the bikes are very secure. Well worth the price. Don't get cheap carriers- they are not nearly as effective
Paul W - Vehicle type: Estate
Absolutely rock solid on fixings. Used with aero bars. What I would suggest is feed the roof bar fixings into the roof bar and then drop bars on to the fixings. Wasted a lot of time trying to push rubber aero rubber down and slide bars in at the same time. Roof box - 1st class once again.
Lynda B - Vehicle type: 4x4
Quick and simple to assemble and fit to roof bars. Very easy to fix bike to rack, sturdy carriers.
Raymond R - Vehicle type: Saloon
Excellent product. Really fast to install and to operate.Secures the bikes really well. Good to look at too. Very stylish and modern.
David S - Vehicle type: Hatchback
I have three of these, they are simple to load the bikes and once loaded you know that they are safe and secure.
Ian S - Vehicle type: Van
This is an awesome product, the only reason I have marked it down slightly is not actually a criticism of the product itself but whilst the bikes can be locked to the rack, the holding mechanism is made from rubber so any determined thief would be able to simply cut through the straps which kind of negates the benefit of the locks but otherwise it fits in seconds and is easy to mount bikes onto securely and stably
Neil T - Vehicle type: MPV
Great product but did not appreciate how difficult it is to get the bikes off and on the roof, it is a real pain would suggest getting a tow bar bike rack instead. But if you don't have this option then these are extremely good and I had no concerns about a bike coming off when travelling.
Philip H - Vehicle type: Saloon
We're really pleased, not just with the product but with the service and speed of delivery too.
Ian R - Vehicle type: Hatchback
A friend told me about Atera and after reading other reviews and comparisons and the fact that they simply looked sturdier and more secure than the Thule alternative I was considering, I decided on the Atera Giro AF bike carrier. The carriers were easy to fit and adjust for my needs. I have a feeling the locks are more of a visual deterrent to the opportunist thief than a reliable security measure but this seems to be the same for all makes of bike carrier so if you were to leave bike(s) unattended for any length of time mounted on the carrier I would recommend locking the bike to the actual roof rack as well with something like a Kryptoflex cable - but make sure the lock you use isn't going to damage your bike or car roof! Anyway, the lock issue is the only reason I've given 9 stars for build quality and definitely not a reason not to buy.
Joshua W - Vehicle type: Estate
Very simple to fit and also brilliant to attach bike to as it holds the bike up while you fit everything else. Also very good because it is locked to roof rack and also bike is locked to it. The best carrier I have every used and I have used a few
Ed B - Vehicle type: Hatchback
Really happy with the quality of this product. The mount holds my bike steady even on the motorway. The blocks which the wheels sit on hold them firm. All in all a very happy customer. Thule who?
Neil A - Vehicle type: Estate
Easy to build and even easier to fit well worth the money also have bike carrier works well witj bars would recommend these
Mark H - Vehicle type: Estate
I have used Attero roof bars and an Attero roof box for some years and really like the build quality and ease of use. When we needed bike carriers I decided to stick with the same make. The bike carriers are ofvery solid build quality and are very easy to use once you get the hang of the system. The bike carriers attach easily onto the roof bars and you can fit up to four carriers. I went for the option of one key for all the locks - well worth it for the convenience of not having to fiddle with separate keys. I would not hesitate to recommend this product. The Roof Box Company as always provided an easy and efficient ordering process and delivery was prompt.
Paul D - Vehicle type: Estate
Was recommended this model by roofbox.co.uk staff as it would cater for the unusual frame design of my bicycle (Pashley Tube Rider) and it does indeed fit well. Once adjusted for the bike it is easy to remove and refit as needed. Never had any worries about how secure the bicycle is. There are two locking mechanisms - one to lock the carrier to the roof bars, which works fine and the other that locks the bicycle in place. This one can be a bit fiddly to lock tightly and is my only (minor) critism.
Alan M - Vehicle type: Hatchback
Great piece of kit. Well worth the money.
Geoff F - Vehicle type: MPV
Previous to the purchase of these I'd been using the Thule 530 Freeride for years without any problems, but having changed my car to one which a much higher roof I was looking for a carrier with a lower operating mechanism. On today's market option for a quality carrier is a toss up between the Giro AF or Thule 591. Whilst the Thule 591 is without doubt the market leader it does have some features that I didn't quite like and/or gave me cause for concern, but the Giro AF appeared better thought out and addressed these areas. Features such as only being able to remove the key if the lock is locked, and the way the rear wheel chock is used to lock the A-frame down when there's no bike fitted shown how much though Atera have put into the design. I'm very happy with the purchase: it's a great quality product, and with an all aluminium construction it's lightweight yet sturdy, easy to fit and rock solid in operation. There are no fiddly or small components that could get easily lost in storage. But if per-change you need a spare part they are reasonably cheap to buy I use Thule WingBar Edge , but the kit comes with fittings for these and plain roof bars. It's very easy to fit/remove and compact to store, and overall size means it's far less bulky than competitors products. The first trip was around 150 miles with two bikes on the roof. Fitting was very easy and the bikes were held rock solid throughout. I would happily recommend these over 'the obvious' alternative.
Greg T - Vehicle type: Hatchback

It was a bit of a job to start with , but once it is set up for your car it's not too bad to refit.
Paul T - Vehicle type: Hatchback
I bought these under recommendations from the staff at Roofbox after I wanted a lighter set of bike racks to ensure my roof wasn't overloaded. I am really please with them. They are very sturdy and the one handed locking mechanism make it really easy to load the bikes on. I would highly recommend these items. I am using them to transport 4 mountain bikes on top of a Ford Focus.
James D - Vehicle type: 4x4
This is second one of these carriers I have purchased from Roofbox. Overall I'm really pleased although I have not used other carriers in the past to compare with. Bit tricky to load bike on to 4x4 on your own but would imagine same issues with all types. Would recommend.....
Peter S - Vehicle type: Hatchback
Excellent . Easy to fit good strong and reliable so impressed with the first I bought I got two more and all with great customer service
Neil T - Vehicle type: Estate
Great quality product, all aluminum construction, lightweight yet sturdy, easy to fit with no fiddly bits or small components that could get easily lost in storage. I have the slotted alloy aero bars, but the kit comes with fittings for these and plain roof bars. Easy to remove and store, the Altera Giro carriers seem less bulky than some of the others I have seen, so I am pleased with my purchase.
Mark E - Vehicle type: 4x4
Excellent product. Very easy to use and very secure. At first I was a little confused on how it operates but once got used to it find it very easy.
Anthony T - Vehicle type: Estate
Very we'll made product, took about half an hour to assemble and adjust to suit my bike the first time. But only takes a couple of minutes to fit to roof bars now.
Alfred R - Vehicle type: Estate
Very good quality and prize. The transport cost from UK to Sweden is a little to expensive. The only thing a regret is that I schould have bought two instead of one from the beginning
Les W - Vehicle type: Estate
Good quality, easily fitted to roof bars. Road and mountain bikes fit easily, jus have to reposition the wheel holders, in minutes. Certainly much better than messing about with rear mounted each and lighting board
Mark R - Vehicle type: Hatchback
I've got to say that this product is fantastic!! I'm very pleased with it and the ease of use. Well done on a great product
Zaga M - Vehicle type: MPV
Sturdy and easy to use
Stuart S - Vehicle type: Hatchback
Very solid engineering and good design, in the main. Assembly needs to be done with a bit of time available, to get the optimum arrangement of racks on the roof bars. Only criticism is that the locking mech did not work without some filing to reduce the depth of the lock and enable it to clear the roof bar. Bikes held very soundly when all in position - and easy to get the bike in place.
Tim S - Vehicle type: 4x4
Solid and good quality construction, easy to use and secure fitting to roof rack and bikes. Not quite as easy to use as the Thule equivalent but comes close and at a much better price.
Steven W - Vehicle type: Saloon
I bought 4 of these racks and have to say that I am very impressed. They are light and easy to fit on my aerobars with the included fittings. I changed all the locks so I only have to use one key, that was a bit fiddly bit didn't take that long. Putting the bikes on is easy and the bracket snaps shut so you can have one hand free to hold the bike. The bikes feel secure and are locked into place. Only minor downside is the straps that secure the wheels can be fouled by the brackets which hold the carrier to the roof bars making it tricky to pull them tight. Overall highly recommended.
Greg T - Vehicle type: Hatchback
It was a bit of a job to start with , but once it is set up for your car it's not too bad to refit
Andrew S - Vehicle type: 4x4
Easy to use. One person loading is easily possible. A big plus.
Colin W - Vehicle type: Estate
Bought Atera bars and cycle rack for my sons car. Delivered promptly but with lots of bits scattered around the box. Eventually worked it out, everything was there, but instructions are poor. There was a lot of fiddling to fit it. However now fitted it looks superb. Silver finish is perfect match on Audi S-Line Avant. It is so easy to use and the bike feels very secure. Improve the instructions, pack it properly and its just about perfect.
Mark W - Vehicle type: Hatchback
Very good bike carrier works well. Great lock system.
Robert F - Vehicle type: MPV
Great product easy to assemble and use. A dream for taking bikes on and off quickly. And it looks good too.
About our reviews:
We test, and often use personally, almost all the products we sell, and we stand behind our comments and recommendations unless customers convince us they need changing. Our Customer Services and Workshop staff also have input into our recommendations.
But it's because we've learned a lot over many years that customer feedback is so important. Fresh, first time out opinions are the most useful ones, and in any event we certainly don't have access to the full range of vehicles that our customers have between them.
Product feedback from existing customers helps our new customers make choices, and also helps our suppliers with their product development.
We e-mail our customers a week or so after their order arrives and invite them to send in a review.
Some reviews are suitable for multiple products. Where appropriate we may, for example, use the same review for a number of different roof bar products where the only difference is the length of the roof bar.
You can top-and-tail the bike carriers to take up less space on your roof bars.
Roof bar compatibility
Steel (22mm x 32mm) barsYes
Aero barsYes. Adapaters included for aluminium aero bars
Bike compatibility
Maximum number of bikes1. (per carrier)
Downtube dimensionsoval up to 80mm wide x 100mm deep, round 22-80mm diameter
Maximum bike weight17kg
Fits tyre widths up to3 inches (4 inches with adapter QAR094300-2)
Maximum wheelbase1170mm
Maximum wheel size29 inches
General information
BrandAtera
Guarantee3 years
Length1180mm
Width240mm
Weight2.9kg
ColourSilver
Security
Bar to carrier lockYes
Carrier to bike lockYes
Specification PDFs
The GIRO AF came out top in a recent product test in the "Auto Strassenverkehr" magazine. (1 = Excellent, 2 = Good, 3 = Satisfactory, 4 = Adequate, 5 = Not good enough, 6 = Failed. The lower the score, the better.)
It scored 1.5 for its concept and workmanship, 1.7 for fitting and use, 1.0 in the driving test, 1.8 in the crash test, with an overall score of 1.5.
Here is an approximate translation of the summary:
Good results in all areas: The test winner's concept is well thought through. The wheel rail can be adjusted and adapted to the bike. The method for fixing the wheels to the rail also proved to be good, because the strap is equipped with a ratchet, which facilitates the attachment. The frame holder is equally convincing - it fits neatly to any bike with its quick release clamp. It didn't show any noticeable weaknesses during the driving test. The GIRO AF passed the slalom, shaking track and full braking tests with flying colours. Though one frame holder loosened, the bike was held firm.
The Thule ProRide 591 is also praised but let down because it doesn't include adapters for the wider channeled BMW aerobars (which are made by Atera, so the GIRO AF comes with the adapters!). As with the GIRO AF, the Proride 591 "convinced in the driving and crash test, during which only one holder loosened slightly".
Delivery charges and arrangements:
We charge a contribution towards delivery costs, depending on what you order, where you live, and how quickly you want the goods.
These are our standard charges; there are usually surcharges for all offshore destinations and some remote postcodes - for details please see our delivery information page.
| | | |
| --- | --- | --- |
| Express Delivery | £ 9.50 | 1 to 2 working days |
| Standard Delivery | £ 6.50 | 3 to 4 working days |
Delivery of other items
| | | |
| --- | --- | --- |
| Express delivery | £ 6.95 | 1 to 2 working days |
| Standard delivery | £ 4.95 | 3 to 4 working days |
| | | |
| --- | --- | --- |
| Express Delivery | £ 19.50 | 1 to 2 working days |
| Standard Delivery | £ 14.50 | 3 to 4 working days |
| | | |
| --- | --- | --- |
| Express Delivery | £ 19.50 | 2 working days |
Delivery times
Delivery times are calculated in working days (Monday to Friday, excluding Bank holidays).
Cut-off times for Express Delivery orders
Express Delivery orders placed before before the cut-off times shown below will usually be desptached on the date of order. Express Delivery orders placed after these cut-off times will be despatched the next working day.
| | |
| --- | --- |
| Small and Standard Sized Items | Order by 4pm for same day despatch |
| Roof Boxes, Dropracks and Roof Tents | Order by 1pm for same day despatch |
Delivery FAQs
When will my order arrive?
There are no deliveries on Saturdays, Sundays or Bank Holidays, except for postable items where Royal Mail has a Saturday delivery. Express Delivery orders placed on a Friday (before 1pm) should be delivered on the Monday or Tuesday, Express Delivery orders placed on a Saturday or Sunday should be delivered on the Tuesday or Wednesday. The arrangements for Very Heavy Items are different and are shown above.
What about Next Working Day delivery?
We have offered a reliable Next Working Day service for well over 20 years but, due to the pressure on the couriers caused by the coronavirus crisis and the huge increase in online shopping, we can no longer be confident about the delivery date, which is why we now call the service 'Express delivery'. Most Express delivery orders will arrive on the next or second working day, but some will arrive on the second or third working day, or be split between these days. So-called "split deliveries" happen when the couriers do not have enough trailer space for everything that should be moved around the UK, so they will load what they can and leave the rest for the next trailer.
Is my delivery day guaranteed?
No retailer or courier company can ever "guarantee" a Next Working Day delivery. As well as split deliveries, all courier companies occasionally have the same transport problems as can happen to everyone else, including snow blocked roads, closed roads, traffic jams, mechanical breakdown, an inability to find the delivery address, or to gain access to it if, for example, it's in a block of flats. We work with some of the best couriers in the business, and overall they provide an outstanding service.
Do I need to be at home?
We are very flexible with our deliveries and will aim to deliver to an address which suits you – this does not need to be your home address. Goods can usually be left without signature - we prefer this with roof boxes. There's a "Special Delivery Instructions" box in the checkout area where we'll ask you to choose a typical instruction and then amend it to suit your particular requirements.
Payment options:
We take the following cards, and also PayPal. Please note that the entry on your card statement will be from "The Roof Box Company".
Secure payments
Our website is secured by Sectigo (formerly Comodo CA), the largest commercial Certificate Authority in the world.
Deciding which bike carriers to buy is not always easy, especially as you may not have had experience of using bike carriers before. We hope that our buying guides provide useful guidance about which bike carrier 'strategy' will be most appropriate for your circumstances, as well as highlighting the best features of particular models. We also have troubleshooting FAQs - for example, some customers struggle at first to fit four bikes onto a tow ball carrier, and wonder whether a different carrier would allow the bikes to be spaced wider apart. (It won't, but we have some good tips which make bike fitting much easier.)
Our bike carriers Exchange Scheme covers roof mounting and tow ball mounting bike carriers only. Rear door mounting / strap on carriers are not included, and nor are roof bars. It allows you to exchange within 90 days of invoice date. Most exchanges are for roof mounting upgrades, or are tow ball carriers with very basic tilting systems being exchanged for easy to use sliding / tilting carriers.
These are the rules of the bike carriers Exchange Scheme:
You are allowed one exchange only.
The original equipment must be in "as new" condition, subject only to fair wear and tear.
The replacement items must be different models from the originals. Not just an alternative colour.
The replacement items must not be part of a package deal or be from our Bargains section.
Roof bars are never part of the Exchange Scheme.
This is how the exchange scheme works:
We charge in full for the replacement items, including the appropriate carriage charge and a charge for any packaging needed for the return of the originals.
We pay the return carriage costs.
When the originals arrive back here we refund you for their invoice value, but you won't get back more than the invoice value of the replacements. In other words, if the replacements are cheaper than the originals we won't be giving you "extra cash back".
Please note: we can only collect items from mainland UK.
To find the spare parts you need, please see the diagram below, identify the product codes, then choose them from the list below. If you need more than 1 of any item, change the quantities in the Shopping Basket.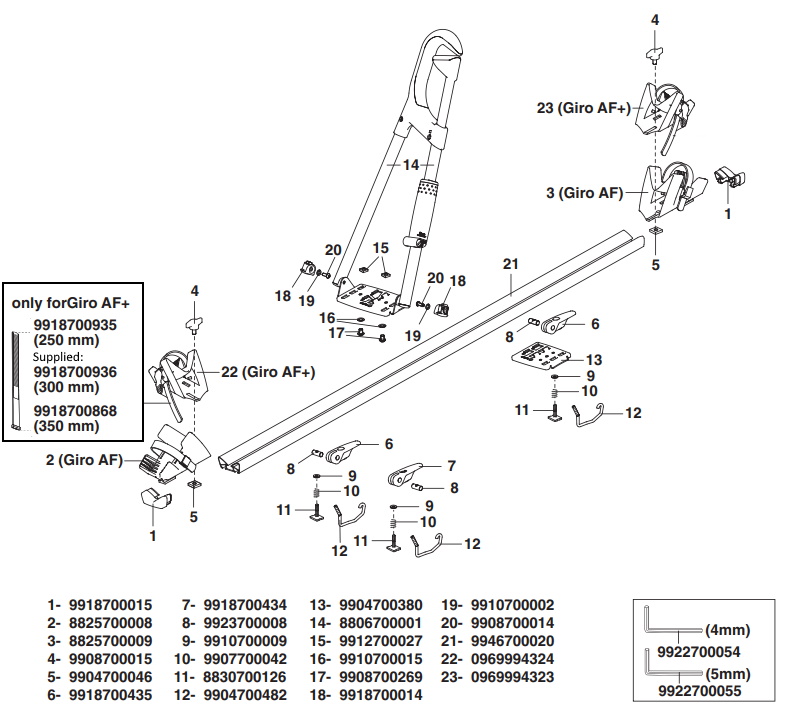 Fitting PDFs
Atera GIRO AF - How to fit to steel bars
Atera GIRO AF - How to fit to aero bars
Delivery charges and Payment options
Our 90 day Exchange Scheme
Fitting instructions and videos