Thule OUTRIDE fork mounted bike carrier no. 561

Overview
:
Thule's 561 OutRide has a quick fit system for all types of front forks, including carbon forks with steel or aluminum dropouts, and forks with disc brakes. There's an integrated adapter for 20mm axles.
We are giving away a free wheel bag with every carrier. Takes up to 29" wheels. Available while stocks last!
Click here to order
In Stock -

Get it by Tuesday 19th November

Thule's 561 OutRide has a quick fit system for all types of front forks, including carbon forks with steel or aluminum dropouts, and forks with disc brakes. There's an integrated adapter for 20mm axles.
We are giving away a free wheel bag with every carrier. Takes up to 29" wheels. Available while stocks last!
The Thule OutRide has a slim aluminium design. The snap-on fastener is easily adjustable for all types of front forks, including forks with disk brakes. Quick-strap at the rear, for all types of wheel.
It fits 9mm Quick-Release forks and also includes an integrated adapter for 20mm thru axles (fits all 20mm thru axles except Rock Shox 20mm Maxel axle). Adapters are available separately for many other thru axles - listed below. Please note, when using these adapters with the OutRide 561 you can't lock your bike to the carrier. You can still lock the carrier to the roof bars. If you are going to leave your bike on the car for any length of time we recommend that you add a cable lock to your order. The Thule 538 cable lock is also listed below.
Holds bikes up to a maximum weight of 17kg.

This carrier is part of our Multi Buy discount scheme, where there are discounts if you buy more than one roof mounting bike carrier at the same time; you can mix budget and premium carriers and always get the cheapest price on each. Change the quantities in your shopping basket (and press "Recalculate") to see what happens! This carrier is priced as low as £97.95.
Include 1 = £104.95 each
Include 2 or more = £97.95 each
Made in Poland.

Exchange scheme: Roof mounting bike carriers are part of our 90 day exchange scheme - see the tab for details. The bottom line is that if you aren't satisfied that the OutRide 561 fits the bill you can exchange it for an alternative roof mount, or a tow bar bike rack.

We are giving away a free double wheel bag with every carrier. This handy bag will ensure your car stays mud and dirt free. It takes up to 29" wheels and is padded with internal pockets. Available while stocks last!
We offer our existing customers a full "Next Day if possible" spares service, and will cannibalise new stock as required to find you the parts you need.
To find the spare parts you need, please see the diagram below, identify the product codes, then choose them from the list below. If you need more than 1 of any item, change the quantities in the Shopping Basket.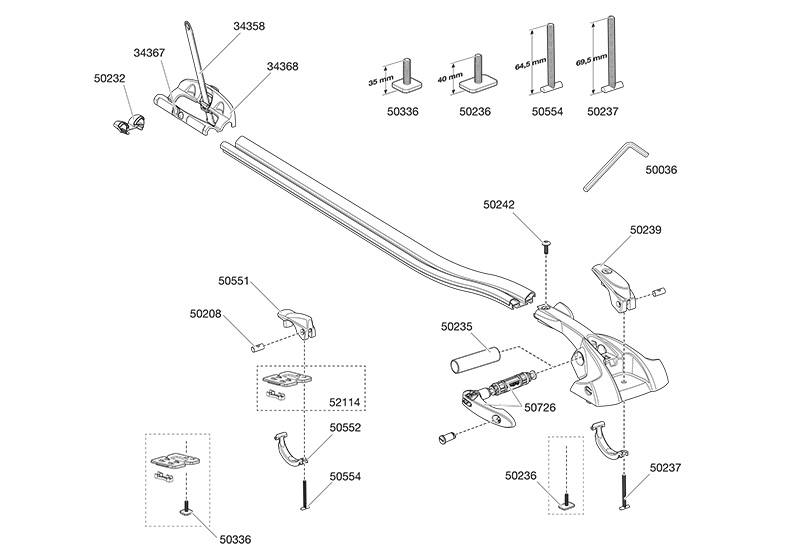 Fits roof bars up to: 56mm wide x 22mm deep
Fits aerobars: yes, adapters included for most aero bars (adapters required for some OEM bars, see below)
Weight: 2.5kg
Max load capacity: 17kg
Max tyre width: 3"
Bar to carrier lock: yes
Carrier to bike lock: yes
Matching locks available: yes
Width: takes 22cm of roof bar space
Guarantee: 5 years
Useful information:
Not suitable for bikes with carbon forks and dropouts, only suitable if you have metal drop outs.
You can see how to fit and use the Thule OutRide 561 in the video below.
It is shown here fitting to aluminium T-track bars. It also comes supplied with fittings that work with square steel (32x22mm) bars.
Delivery charges and arrangements:
We charge a contribution towards delivery costs, depending on what you order, where you live, and how quickly you want the goods.
For most UK addresses, the charge for our two to three day service is £5.50 (£9.50 for orders including a roof box) and our charge for Next Working Day deliveries is £8.50 (£12.50 for orders involving a roof box). AutoSock, shoe chains, RUD i-Sock, and small spare parts, are charged £3.95 (Royal Mail Tracked), £4.95 (Royal Mail Express Tracked) or £5.95 (express courier, usually Next Working Day).
There are different charges for any delivery including a sea crossing, and deliveries to Skye - we will contact you with a quote on receipt of order.
Orders for Next Working Day delivery need to be received by 4.00pm.
There are no deliveries on Saturdays, Sundays or Bank Holidays, except for postable items where Royal Mail has a Saturday delivery. Next Working Day orders placed on a Friday will be delivered on the Monday, Next Working Day orders placed on a Saturday will be delivered on the Tuesday.
We are very flexible with our deliveries and will aim to deliver on a day and at an address which suits you. Goods can usually be left without signature - we prefer this with roof boxes. There's a "Special Delivery Instructions" box in the checkout area where we'll ask you to choose a typical instruction and then amend it to suit your particular requirements.
No retailer or courier company can ever "guarantee" a Next Working Day delivery. All courier companies occasionally have the same transport problems as can happen to everyone else, including snow blocked roads, closed roads, traffic jams, mechanical breakdown, an inability to find the delivery address, or to gain access to it if, for example, it's in a block of flats. We work with some of the best couriers in the business, and overall they provide an outstanding service.
Payment options:
We take the following cards, and also PayPal. Please note that the entry on your card statement will be from "The Roof Box Company".
Secure payments
Our website is secured by Sectigo (formerly Comodo CA), the largest commercial Certificate Authority in the world.
Deciding which bike carriers to buy is not always easy, especially as you may not have had experience of using bike carriers before. We hope that our buying guides provide useful guidance about which bike carrier 'strategy' will be most appropriate for your circumstances, as well as highlighting the best features of particular models. We also have troubleshooting FAQs - for example, some customers struggle at first to fit four bikes onto a tow ball carrier, and wonder whether a different carrier would allow the bikes to be spaced wider apart. (It won't, but we have some good tips which make bike fitting much easier.)
Our bike carriers Exchange Scheme covers roof mounting and tow ball mounting bike carriers only. Rear door mounting / strap on carriers are not included, and nor are roof bars. It allows you to exchange within 90 days of invoice date. Most exchanges are for roof mounting upgrades, or are tow ball carriers with very basic tilting systems being exchanged for easy to use sliding / tilting carriers.
These are the rules of the bike carriers Exchange Scheme:
You are allowed one exchange only.
The original equipment must be in "as new" condition, subject only to fair wear and tear.
The replacement items must be different models from the originals.
The replacement items must not be part of a package deal or be from our Bargains section.
Roof bars are never part of the Exchange Scheme.
This is how the exchange scheme works:
We charge in full for the replacement items, including the appropriate carriage charge and a charge for any packaging needed for the return of the originals.
We pay the return carriage costs.
When the originals arrive back here we refund you for their invoice value, but you won't get back more than the invoice value of the replacements. In other words, if the replacements are cheaper than the originals we won't be giving you "extra cash back".
Please note: we can only collect items from mainland UK.
Our unique FREE Thule lock matching service
Delivery charges and Payment options
Our 90 day Exchange Scheme