Bike Carriers & Bike Racks








Bike carriers, cycle racks and accessories
We have a huge range of roof mounting, rear mounting, tow bar mounting and other bike carriers from all the major world wide manufacturers. Please select from one of the options below.
Deciding what to buy...
So how do you decide which bike carrier to buy? To a large extent this is determined by (1) the number of bikes to be carried, and (2) which bike carriers fit your car. Once you've decided which type(s) to go for, you need to consider style, features and price. Click to see our buyers guide using the link below:
You can fit a tow bar bike carrier to any car that can carry a tow ball, and roof fitting bike carriers to any car with a set of roof bars. But all "back of car" bike carriers are vehicle specific - check out our Which rear fitting bike carriers fit my car? database.
If this is your first visit to our site, please read our Bike Carrier Information pages which provide general guidance about the different types of bike carrier, and various 'scenarios' for carrying large numbers of bikes. For detailed information about our product range, including pictures and links to online ordering, please visit our Product Range pages. To see which carriers we rate as being "the Best" see our Recommendations.
If you're feeling spoilt for choice, and can't decide, or are short of time and just want an outstanding deal, then let us do the thinking for you! Choose one of our package deals - Atera GIROs with Thule or Atera roof bars, or CRUZ Bici-racks with CRUZ bars.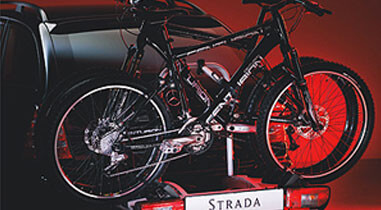 Atera STRADA
The superb lightweight STRADA DL2 and STRADA DL3 carriers (only 12.5/14.5kg) are fully self-adjusting for all tow balls and - this is the real innovation - don't tilt but slide away from the car, much in the same way as a kitchen drawer slides out of a unit. Not only is this a single handed operation, but the bike carrier is taking the weight of the bikes, so it's easy, and safe - the bikes won't suddenly pivot forward and clock you on the head. And they're small and light enough to be placed in the boot of the car when not in use - often the only sensible option for multi-storey on on street parking.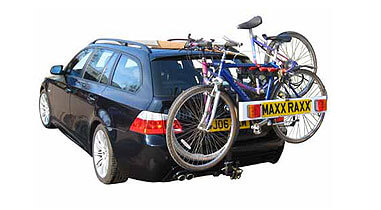 MaxxRaxx bike racks
MaxxRaxx tilting tow bar carriers are ingenious. We think they're streets ahead of any other 'hang on' carrier - the way the bikes fit provides many of the benefits of using a wheel support rack, but at more of a 'hang on' rack price. They can be adapted to fit all tow ball types and also vehicles with spare wheels on the rear door. There's even a ski carrying accessory. 5 bikes can be carried on certain 4 x 4s and larger vehicles with nose weights of 100kg or more.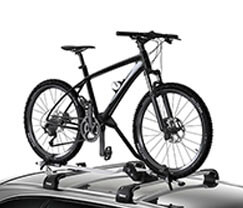 Thule ProRide 598
Thule's aluminium ProRide 598 silver and 598 black has a clever automatically-adjusting quick release system. It comes complete with adapters for aluminium T-track section bars, fits roof bars to 65mm wide, and takes bikes with down tubes up to 80mm diameter (up to 80 x 100mm for oval frames).
Check out the Thule ProRide 598 in our Pick and Mix programme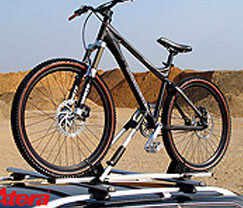 Atera GIRO AF bike carrier
The previous GIRO was a worthy winner of the Auto Express Best Buy Award on several occasions. The Atera GIRO AF is its 21st Century replacement, featuring clever wheel holders to keep the bike in place and automatic shoulder-level single handed tensioning and locking, leaving one hand to hold the bike upright. Superb!
Check out the Atera GIRO AF in our bike carrier package deals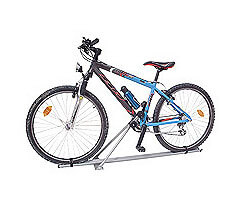 CRUZ 'Bici-rack'
The CRUZ 'Bici-rack' is a basic but solid bike carrier - it's made of much stronger material than similar bike carriers in its price range. It fits roof bars to 40mm wide, downtubes of up to 85mm deep by 65mm wide, and can easily be adjusted to suit the geometry of your bike if this is different to normal. It has a 2 year guarantee.
Check out the CRUZ Bici-rack in our package deals
Our brands